Music Club of Kingsville
January 9, 2018
---
Our President, Carole Geddes calls our first meeting of the year to order.
Ellie Killian leads us in our pledges.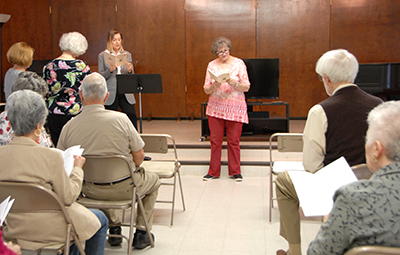 Then Carole presented special awards to the "Decorate Your Yearbook" project winners.
Norma Boone read a favorite poem, "Count That Day Lost" by George Eliot.
We should all give these words some thought!
Carole and Norma recognize guest Dr. Oscar Diaz, and his project.




Then it is time to ring in the New Year with some refreshments
and a movie about Beethoven's life.
Thanks to Carol Gerwick and her committee, Rachael Bustamante, Choly Devera, and Norma Olivares
for a delicious spread!
---
---
---
---
Happy New Year to Everyone
from the Music Club of Kingsville!
---
---
---
---
HOME