Music Club of Kingsville

October 9 Meeting
---
DR. GREG SANDERS
presents
THE HISTORY OF THE SYMPHONY
Music Club President, Carol Gerwick
reviews the "Hymn of the Month" with Jerry Tanner
---
While Dr. Sanders readies his presentation.
---
First Nancy KingSanders gives a report on the Kingsville Symphony Orchestra.
Then Dr. Sanders starts his lecture
with a discussion of the design of the orchestra of the Baroque Period.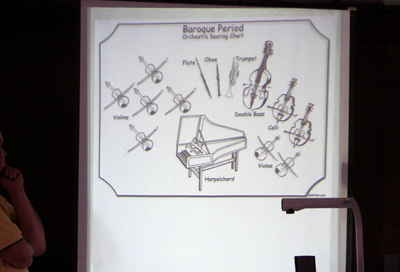 Next he discusses orchestras of the Classical Period.
He ends with a diagram of the large orchestras of the Romantic Period.


Jerry Tanner leads us as we sing Texas Our Texas


---


Then we visit and enjoy our refreshments.


---
---
HOME